VINHOMES TRAN DUY HUNG PROJECT
Vinhomes Tran Duy Hung Apartment is a complex of luxury apartments, commercial centers and offices for rent, invested by Vingroup. Following the golden chain of Hanoi projects such as Times City, Royal City, Vinhomes Tran Duy Hung has just become a focus of investors because the project converges outstanding elements of location and design. , space.
Vinhomes Tran Duy Hung project has implemented the idea of ​​a vibrant urban area with many modern apartments located inside green parks, in which the infrastructure system is perfect and synchronized. Vinhomes Tran Duy Hung is oriented to become a green oasis in the heart of the capital. The apartment building system with 6 apartment towers is meticulously designed with high-class utilities and facilities interspersed with greenery to create an environment-friendly living space.
Vinhomes Tran Duy Hung apartment for sale is located at Tran Duy Hung intersection and Khuat Duy Tien street, the most favorable position in Hanoi with 2 fronts. This is the busiest area for diplomacy and education of the whole city. The project is part of the economic, cultural and administrative development strategy at the city's southwestern gateway.
Vinhomes Tran Duy Hung Apartment is located at the western gateway of Hanoi city, just 25 minutes drive from Noi Bai International Airport, 15 minutes from the city center, near the National Convention Center and Stadium. The country is surrounded by agencies, administrative units, education, health centers, National highways, ring roads, easy to connect to the western suburbs and neighboring provinces. This is the highlight that creates a special attraction at Vinhomes Tran Duy Hung.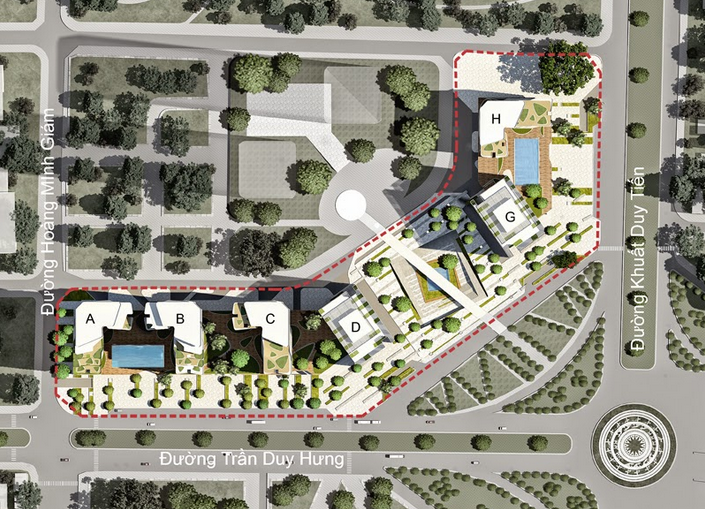 Project name: Vinhomes Tran Duy Hung apartment
Investor: Vingroup
Total land area: 5 ha
Total floor area: 400,000sqm of which 180,000sqm for shopping centers, 161,000sqm for apartments, 22,500sqm for offices and 38,500sqm for hotels.
Development plan: offices, luxury apartments and commercial centers.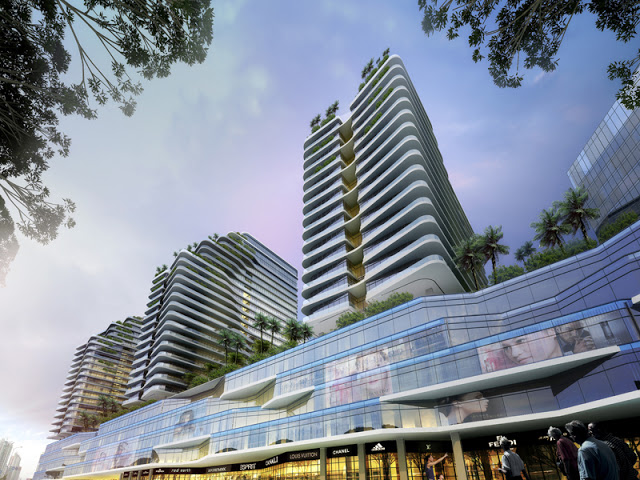 VINHOMES TRAN DUY HUNG APARTMENT
Vinhomes apartments are always towards environment friendly, close to nature. Therefore, all apartments in Vinhomes Tran Duy Hung are designed into a modern style, harmonious layout, and scientific transportation system.
Vinhomes apartment for rent Tran Duy Hung has 2-4 bedrooms, designed with many different areas. All bedrooms and living rooms are filled with natural light, air convection with balconies and spacious glass windows.
Vinhomes Tran Duy Hung 2 bedroom apartment has an area ranging from 55m2 - 95m2, including 2 bedrooms, 2 bathrooms, suitable for young families.
3-bedroom apartment with area from 100m2 - 140m2, open space, close to nature, cool, suitable for families with many children.
4-bedroom apartment with area from 140m2 - 160m2, modern design, streamlined.
All apartments in Vinhomes Tran Duy Hung are equipped with modern furniture: electromagnetic cookers, kitchen cabinets, hoods, sinks, showers, wall cabinets, kitchen cabinets, kitchen cabinets, designed in style. elegant way. Especially, furniture imported from Germany is durable and beautiful.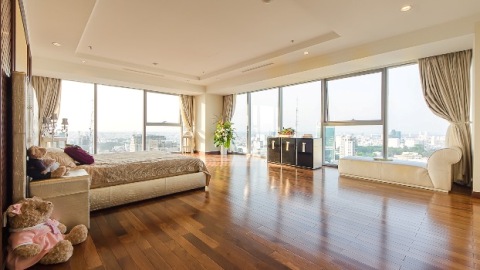 Vinhomes Tran Duy Hung has a full range of modern utilities such as swimming pool, gyms, commercial centers, green landscape systems, squares, restaurants, Vinschool school system, hospitals ... are all fully equipped. The green patches at the flower garden, playground for residents, internal roads in the project combine together extremely harmoniously in the project.