Invest in Sunshine Riverside, an attractive profit opportunity for investors
Using financial leverage is using loans instead of equity to make a profitable investment. This is an option being invested by bds investors in Sunshine Riverside Tay Ho
Using financial leverage is using loans instead of equity to make a profitable investment. This is the preferred choice for real estate investors in the Vietnamese market.
Real estate expert Brandon Turner once said in a post on Forbes: "Using effective mortgage loans to rent is like buying a super value property without actually paying for it. both. So they are super-profitable businesses. "
Financial leverage in real estate: Optimizing cash flow and reducing liquidity risk
If the biggest disadvantage of real estate is the large capital opportunity cost, the biggest advantage of financial leverage is the low opportunity cost of cash flow. Therefore, when using appropriate loans to buy a home, thanks to the flexibility of capital, home buyers, whether for investment or for housing, can diversify individual investment packages while optimizing the flow. income to "get short to raise long."
In many ways to reduce opportunity costs and optimize capital flexibility, installment loans are the most feasible and feasible option. For individual investors, by splitting the cash flow and extending the payment period from large loans to regular installments, borrowers can minimize liquidity risks when they are available. enough time to make financial arrangements. In the long term, investors can turn around capital for other investment options to create increased profits.
Sunshine Riverside - Financial leverage from groundbreaking policy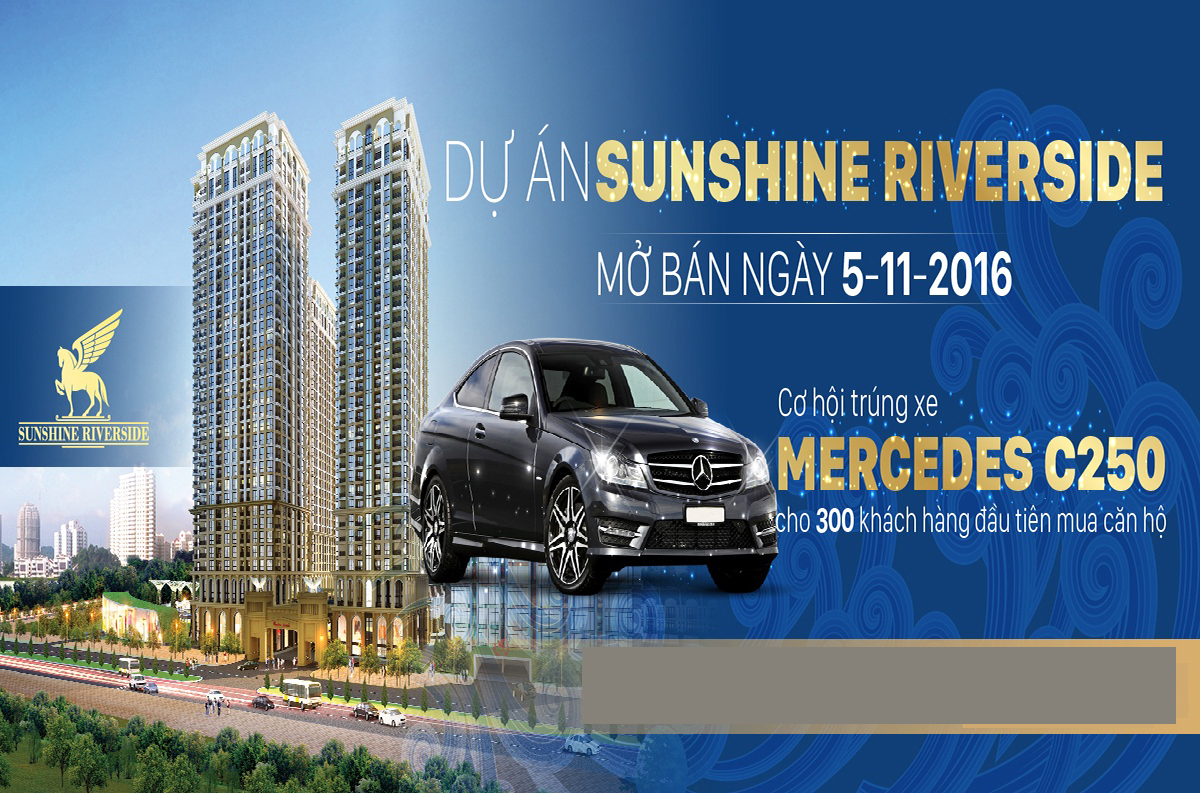 If capital costs and return on investment are chosen as the two ends of the financial leverage, the choice of a real estate project with low investment capital and potential for profit over time is weak. prerequisite to help investors optimize their capital flows and generate profits as well as reduce liquidity risks.
With Sunshine Riverside Tay Ho, customers will be supported loans up to 75% of the apartment value with 0% interest until the house is received. From this preferential loan policy, customers will have more and more opportunities to own a luxurious Hometel apartment at the project.
In addition, when owning Sunshine Riverside Tay Ho apartment, customers also receive many attractive incentives from investors:
(Valid from 10/10/2016 to the replacement policy)
Promotions
Free Management Services 05 years: Customers who purchase Sunshine Riverside apartments are offered a Standard Management Service package in the first 5 years (excluding costs related to services paid to 3rd parties such as car parking, electricity, hot and cold water, communications, cable TV) from the date of delivery.
=> Offering 01 scholarship Voucher at the Group's International Kindergarten within 01 year:
=> Free 01 Gym voucher within 02 years:
=> Free 01 Pool Voucher within 05 years:
In addition to the general promotion program as above, for each specific project, the investor also offers many special support policies as well as other attractive gifts.
For more information about the project, please contact:
Mr. Liem: 0979.776.776