CIPUTRA VILLA AREA
OVERVIEW OF THE CIPUTRA VILLA
CIPUTRA VILLA AND LUXURY APARTMENT
Ciputra urban area is the first new urban development project in Hanoi with a scale of over 300 hectares. The project, invested by CIPUTRA real estate development group (Indonesia) in cooperation with Hanoi Urban Infrastructure Development Corporation, is developed synchronously on technical infrastructure system and infrastructure. society with residential areas and high-end service areas. Living here, people will enjoy a peaceful life, in harmony with nature but no less comfortable.
High-class villa area Ciputra includes G1, G5, G6, G9, G10, D1, D2, D3, D4, D5, C1, C2, C3, C4, C5, C7, T1, T2, T3, T4, T5 , T6, T7, T8, T9 and Q areas with areas from 140m2 to 600m2, designed with 3 - 5 bedrooms with unique style, bringing an outstanding quality of life to residents here.

LOCATION OF CIPUTRA VILLA AREA
Ciputra Urban Area is located in the Northwest of Hanoi Capital, located on Lac Long Quan Street, in Xuan La and Phu Thuong Ward, Tay Ho District, surrounded by the Red River and West Lake, the main western gate, Adjacent to Ring Road 3, the East is adjacent to Ring Road 2, near Thang Long Bridge and Nhat Tan Bridge, about 10 km from the city center, only takes a few minutes to go to Noi Bai International Airport. This is considered the most prime location of Hanoi city, convenient for residents to travel and work.
Ciputra Villa for sale has a total area of ​​394,135 ha, including villas of G1, G5, G6, G9, G10, D1, D2, D3, D4, D5, T1, T2, T3, T4, T5, T6, T7, T8, T9 and Q areas with all kinds of utilities: car park, amusement park, shopping mall, garden area, education system, health ...
Ciputra villas are surrounded by green gardens, offering beautiful views, airy atmosphere as well as tree-lined walking paths.
Ciputra villas are designed from 3 to 5 bedrooms, equipped with beautiful, modern furniture, imported from Europe, arrange a science to make the most of the used area. Each room has its own window and balcony, providing a cool space.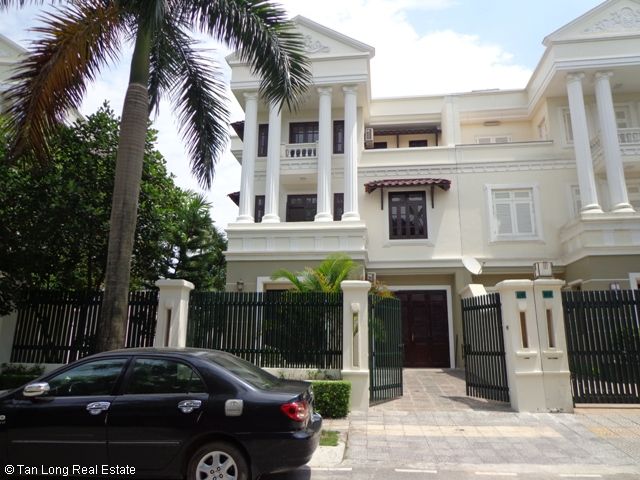 At Ciputra Villas, residents will have the opportunity to enjoy the most comfortable life with all kinds of services and amenities such as the most advanced education system with the United Nations International School System. since 2004, Singapore International School since 2007, Hanoi Academy School since 2009 with levels from elementary to high school; The outdoor pool area is designed according to international standards to meet the comfortable life for residents. In Ciputra urban area, 5 swimming pool areas are scatteredly designed to provide comfort for everyone and other services and utilities such as supermarket, parking lot, gym, play area for children ... bring the life of residents the most comfortable, luxurious.